JAZZ



During the 1890s and after the birth of the Blues New Orleans witnessed the emergence of a more sophisticated style of music known as Jazz. Jazz is a term inspired by and somewhat derived from the name of the jasmine plant (originally it was called jass). The fragrant white and yellow leaves from the jasmine flower were used to make perfume and also name a new type of music that blended blues, ragtime, marching brass band, spirituals and minstrel songs.
These kinds of sounds and improvisations put together formed America's greatest contribution to the history of music. Jazz is based on improvisation, syncopation and a spontaneous reinterpretation of what a jazz musician does to any given piece of music be it Creole, Latino, American popular, ragtime, military march, classical or the blues.
RAGTIME (1890s)
Ragtime, one of the earliest forms of jazz, is essentially instrumental music with highly syncopated rhythms and usually played on piano. Ragtime takes its name from the "ragged" or syncopated rhythms that occur on the off beats. In ragtime piano music the left hand provides steady notes on the beat while the right hand provides the syncopation by playing notes off the beat. Many early rags were improvised versions of military marches. Rags being more syncopated than marches kept the duple meter of the march as well as the 16 bar strains inherent in the form. A ragtime piece can be diagrammed as follows: The CC and DD sections are usually different in character and mood than the AA BB.
AA BB CC DD
The most commercially successful rag was published in 1900. It was Scot Joplin's "Maple Leaf Rag." Maple Leaf was the first piece of sheet music to sell more than one million copies.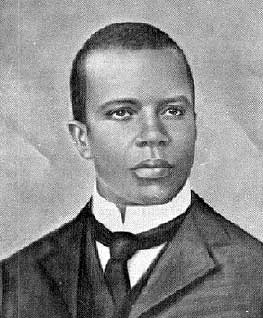 Scott Joplin (1868-1917)
Listen to Maple Leaf Rag by Scott Joplin:
| | | |
| --- | --- | --- |
| | l | |
AA BB (A) CC DD
DIXIELAND JAZZ (1910s)
Many early jazz performers couldn't read music but had highly developed musical ears. Many jazz musicians learned to "play by ear." Playing by ear promoted more improvisation. Dixieland, the nick name for New Orleans, Louisiana and now the nick name for all the Southern states, is also the name for an early type of jazz music. Dixieland jazz combines improvised rags, blues and collective group improvisations. Many different instruments holding their own melodies in an intensely polyphonic texture is the hallmark feature of Dixieland jazz.
The standard combination of instruments used in Dixieland includes a variety of brass instruments such as trumpet, trombone, tuba as well as the woodwinds, saxophone (tenor and alto) clarinet, and the rhythm section of piano (banjo or guitar), bass and drums.
Black musicians such as Buddy Bolden, "King" Oliver and Jelly Roll Morton all contributed to the Dixieland style of jazz but ironically an all white band, named inappropriately, The Original Dixieland Jazz Band. This group was the first to record in this new highly energetic, syncopated and polyphonically improvised music. They were the first jazz band to sell more than a million recordings of their first record in 1917.
Listen to Tiger Rag by The Original Dixieland Jazz:
LOUIS ARMSTRONG (1901-1971)
Louis Armstrong is regarded as the most influential and gifted improvisers in jazz history. He is considered the first great improviser because his solos have a heightened sense of drama, melodic intricacy and a rhythmic complexity. His musical and technical virtuosity paved the way for many of today's jazz virtuosos. Louis Armstrong's improvised solos were often seemingly pre-composed.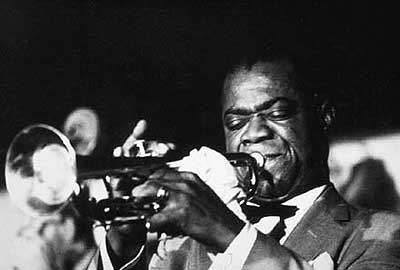 Jazz trumpeter Louis Armstrong performing at the Basin Street Club. June 27, 1956
Louis Armstrong was born in New Orleans and at an early age worked during the day delivering coal and played Dixieland jazz in clubs at night. By the time he was 21 he joined "King" Oliver's band working in Chicago and then formed his own band called the "Hot Five" (or when necessary the Hot Seven). Armstrong's charismatic personality endearing smile and musical intensity made him a cultural icon in America.
Listen to West End Blues by Louis Armstrong:
SWING (1920-30s)
In big band jazz the practice of dividing ensemble sections into trumpets, trombones, saxophones, etc. and then doubling parts (like a symphony orchestra) is common. The opposite of doubling parts is to have one person per part such as a small combo. By the 1930s these big bands were the rage and the type of music they played was called swing. Swing is the name of a dance where a couple "swings" their partner back and forth in rhythm. In jazz, swing is the type of music danced to and performed by big bands.
Listen to It Don't Mean A Thing If It Ain't Got That Swing by Duke Ellington:
BEBOP
During jam sessions held after big band concerts there was an opportunity for musicians to play in smaller ensembles and in many cases challenge each other in improvisation. Often these jam sessions involved musicians trading solos in contest of their virtuosity. Smaller night clubs began hiring less expensive smaller combos for their musical entertainment. Two originators of bebop were trumpeter Dizzy Gillespie and alto saxophonist Charlie Parker.
Some of the characteristics of Bebop:
Rhythm: Extremely fast tempos over 300 beats per minute.
Melody: Very notey melodies, in disjunct motion, with chromatic embellishment

often independent of the main melody (head).
Harmony: Substitutions (alternations of the common chord changes) and extended

harmonies that go beyond the common chord types (1-3-5 or the 7 notes of the

scale).
Instruments: Sax, trumpet, string bass, drum set, piano (or guitar).
Form: AABA/ improvised solos/AABA. The head (main melody of the A section)

is often played by two instruments in unison.
Listen to Dizzy Gillespie on muted trumpet, Thelonious Monk on piano, Curley Russell on bass and Buddy Rich on drums play Charlie Parker's Quintet Mohawk.
COOL JAZZ (later Smooth Jazz)
By the 1950's the transformation of jazz was taking place. Swing bands were less common and bebop was in its heyday. Even though, many listeners never took to bebop and a very unique American musician on the international scene was ready to introduce a new style of music called "cool" jazz. His name was Miles Davis.
Miles Davis started his career as a bebop musician and sideman to Charlie Parker. Davis invented a slower, more sedate, contemplative and relaxed style of jazz where the timbre was lush (muted trumpet, soft instruments like vibes or french horn) and the vibe was coooool.
Listen to Flamenco Sketches by Miles Davis:

and then Dianna Krall's 90s version of cool jazz (now called Smooth Jazz):
MODERN JAZZ
FREE JAZZ
There are many kinds of jazz today but the popularity of modern jazz is not like what it used to be during the Swing era. Never the less the art form survives and today it has many substantial artists that contribute to it. One of the most limitless forms of jazz is know as Free jazz. In Free jazz there is no conforming to traditional jazz forms or chord structures, regular rhythmic patterns or melodic lines. Instead there is an agreement amongst musicians to allow themselves to improvise in a manner that is independent of the other ensemble members. The form and the music can go anywhere in any direction. There can be total freedom in every aspect or sometimes just one steady grounding factor.
Listen to Free jazz performed by Ornette Coleman:

FUSION
The form of jazz know as Fusion is music that combines elements of jazz, rock and world music. Due to the abstractness, density and difficulty of Free jazz and the overwhelming popularity of rock music many jazz musicians partake in music that is straightforward in its chord progressions, repetitive in its rhythmic patterns and accessible in its over all melodic content.
Listen to Palladium by one of the most popular fusion groups Weather Report: